The LEICA Vario-Elmar-R 80-200mm f4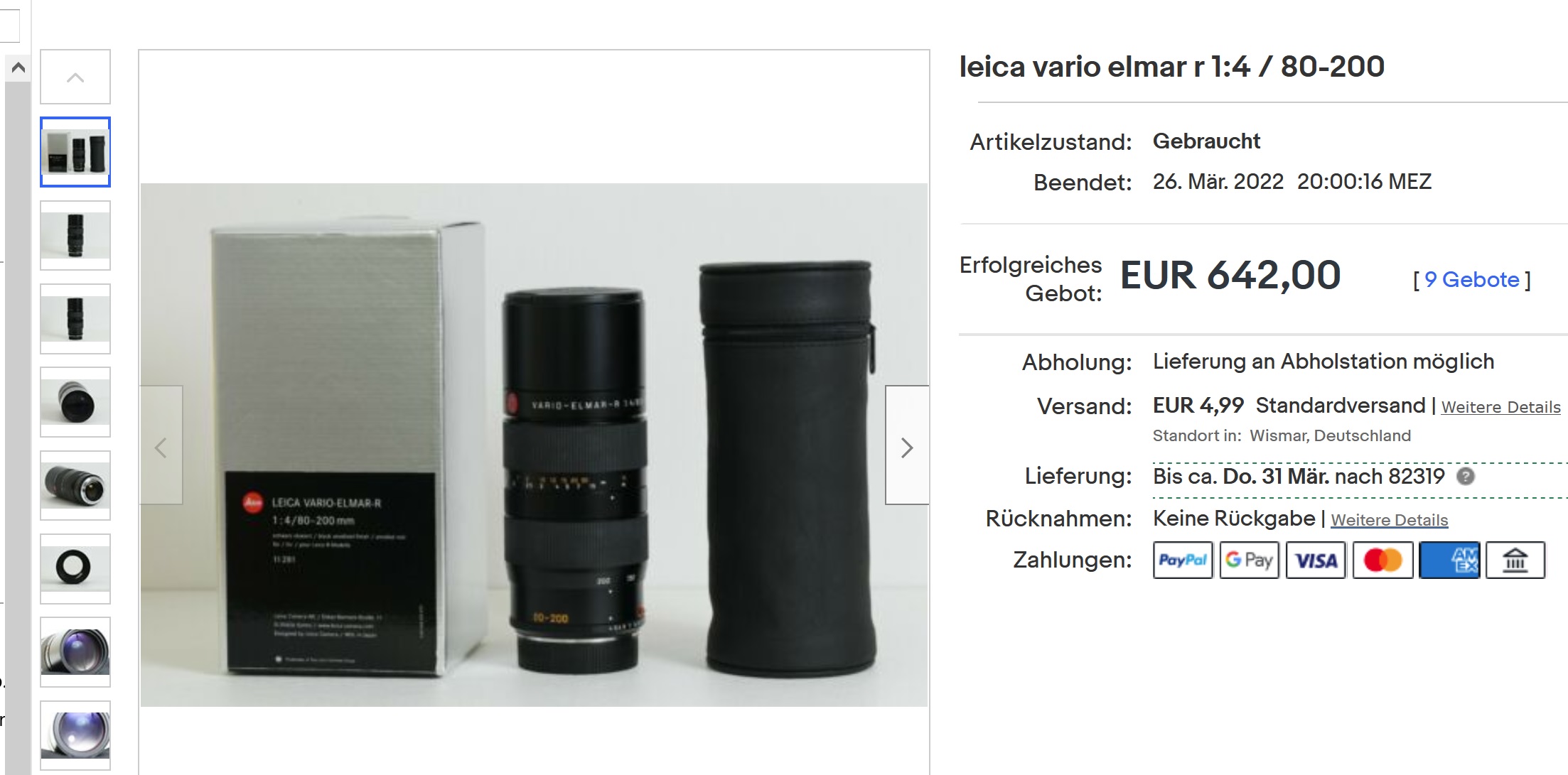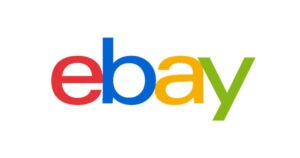 THE LEICA VARIO-ELMAR-R 80-200mm f4 for as little as € 642!
With patience and a little luck, lenses like this one can be bought relatively cheaply on eBay (we are in the LEICA cosmos, after all). I bought mine at auction in March 2022; the lens has the serial number 3943053, so it was made in 2002.
The lens is in MINT condition. It was apparently hardly used, it has no scratches or other signs of use, the lenses are crystal clear, everything like new.
The LEICA R 80-200mm f4 is a ROM lens
On the newer LEICA-R lenses, an electronic contact strip - see the strip with the nine brass contact fields in the photo above - is mounted on the bayonet. This allows data to be transmitted from the lens to the camera.
LEICA-R LENSES with this contact strip have the additional designation "ROM".
This bar is missing on the older lenses with the CAM designation.
LEICA QUALITY
LEICA did not build any zooms for a long time - they did not want to compromise on image quality. When they did decide to do so, lenses were calculated that were hardly inferior to fixed focal lengths or even surpassed them.
The best ZOOM lens from LEICA is the one with focal lengths of 35-70mm:
VARIO-ELMAR-R 35-70mm f4 Macro
The 80-200mm lens reviewed here can't quite compete with that lens, but it's still an exceptionally good lens.
COMPATIBILITY WITH ANALOG LEICA CAMERAS
The adjacent table refers only to the analog LEICA cameras (35mm film cameras). On the cameras R3 to R9 it can be used, on the R9 the EXIF data (aperture & focal length) are transmitted in addition to the exposure metering.
COMPATIBILITY WITH DIGITAL MIRRORLESS (LEICA) CAMERAS
Especially interesting nowadays, however, is the possibility of using this zoom lens on a digital camera through an adapter.
In addition to LEICA cameras, you can also connect cameras from CANON, NIKON, SONY and many more.
LEICA R ADAPTER L
This adapter is the ideal way to connect LEICA-R lenses with ROM contacts to my LEICA SL2 or LEICA CL. But LEICA charges very well for this:
Price € 735.- !
The LEICA R adapter L itself also has ROM contacts and the advantage of this is that the camera is informed which R lens is connected with which focal length and can then automatically set the lens corrections and image stabilization. This also works automatically with all R-zooms manufactured from 1976 onwards - and with every focal length setting.
However, the adapter also only transfers this data (name of the lens and focal length), but not the aperture setting. This is then missing in the EXIF data . . .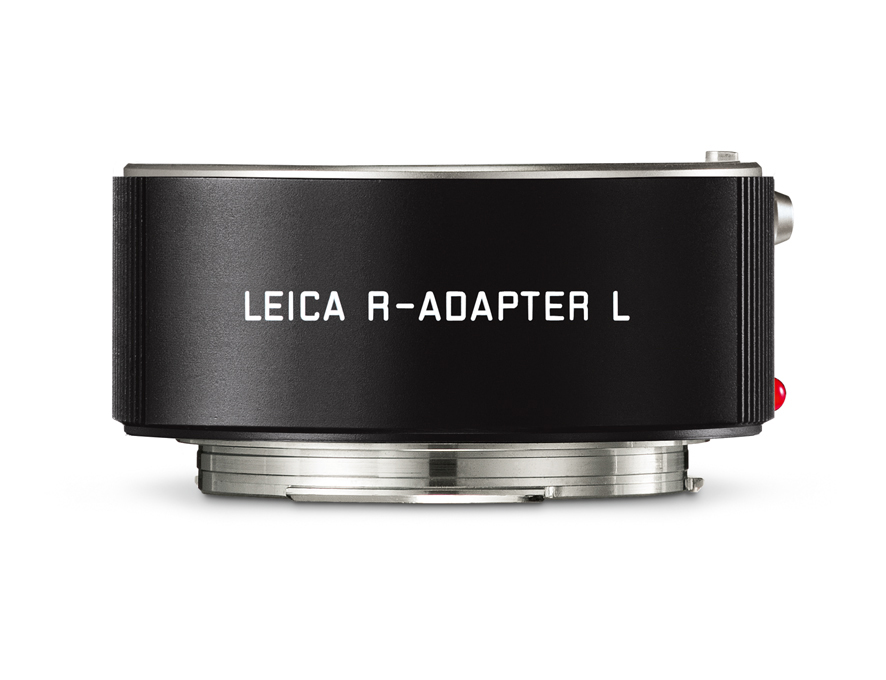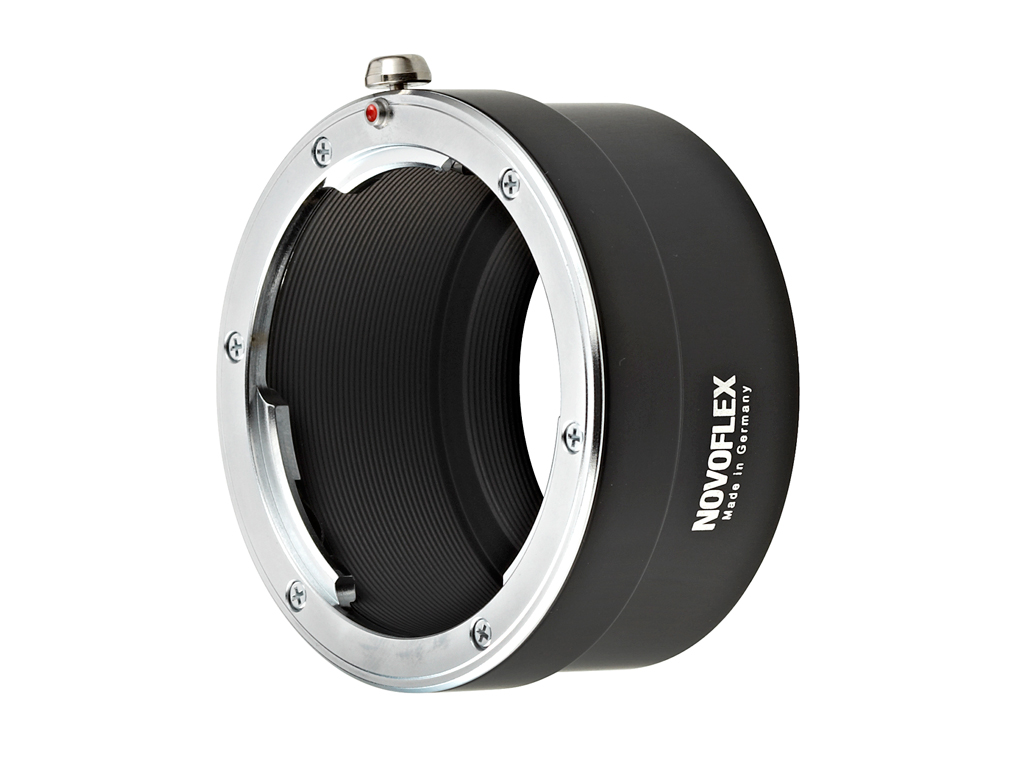 NOVOFLEX Adapter LET/LER
HERE I BUY ALMOST ALL USED CAMERAS AND LENSES
If you follow certain rules, eBay is the ideal platform to buy and sell camera equipment.
What rules are, I have summarized here.
The adapter from NOVOFLEX has no ROM bar and therefore does not transfer any data. But it also costs considerably less:
Price € 119.-
On my SL2 and CL, you can also set the respective R lens manually in the menu. Of course, this is only useful if it is a fixed focal length, with zooms only the shortest focal length is automatically stabilized.
Serial numbers and year of manufacture of LEICA cameras and lenses
So before you buy a camera or lens, be sure to check the serial numbers to see when they were made.
Cameras - Leica-Wiki
The serial number tells you in which year a camera was manufactured. Since LEICA has rather long-lasting production cycles, you can avoid buying an unnecessarily old camera.
Lenses - Leica-Wiki
With lenses, the serial number is very important because the lenses were sold under the same name in different versions, and there the latest versions are often the best.
LEICA Kompendium by Thorsten from Overgaard
This list is very thoroughly researched. Here you can find information about cameras and lenses, including part numbers.
MY CONCLUSION
The fact that the LEICA R zooms - unlike those of other manufacturers - do not exactly match the common focal lengths (35-70 and then 80-200) is due to the fact that LEICA found that it was not possible to build a lens at 70-200mm that would have met its own standards in terms of size, weight and, above all, image quality.
There are also no R-Zooms at LEICA that would reach from 24 to 70mm - for the same reason. At LEICA, the exceptional image quality is achieved by dividing the R-Zooms in this focal length range in this way:
21-35mm
80-200mm