FUJIFILM GF 670
MODERN TECHNOLOGY IN A VINTAGE DRESS
YEAR OF MANUFACTURE 2012 !
This FUJI camera was not manufactured by FUJI, but by the company COSINA CO. LTD. (Japan), who also produced this camera for VOIGTLAND under the name BESSA III.
The FUJI GF 670 was built from 2008 to 2014 and sold until 2017.
I bought my camera from Bellamy Hunter in Japan, practically in new condition, without any scratches or other signs of use.
The FUJI GF 670 is considered the best medium format rangefinder camera. With it you can take 6x6 and 6x7 format photos.
The 80mm f3.5 lens corresponds to a focal length of 50mm at 6x6 and an aperture of f2 in 35mm format.
TECHNICAL . . .
The camera has a Fujinon (or Heliar) 80mm f3.5 lens with a barely audible leaf shutter (shutter in the lens), a coupled rangefinder, parallax compensation, a manual and an automatic exposure mode with aperture priority and an exposure compensator. The film is transported by the top right button and next to it is a round window with the film counter. The top left button controls the shutter speeds in manual mode and has an A-position for automating aperture priority. It also contains the ISO dial and offers exposure compensation from -2 to +2.
This is rounded off with a hot shoe and a PC sync socket on the left.
The design is based on the shape of the Voigtländer Bessa II or Vito III from the 50s. FUJI wanted to create a retro design here, equipped with the latest technology.
6x6 OR 6x7
With 120 film you can take twelve shots in 6x6 format and ten shots in 6x7 format. The setting for the format is made inside the camera and can therefore only be changed again before a new film is inserted.
Further data:
The rings for focusing and aperture adjustment are both located at the front of the lens.
The camera weighs only about 1kg, which is very, very light for a medium format camera that can shoot 6x7.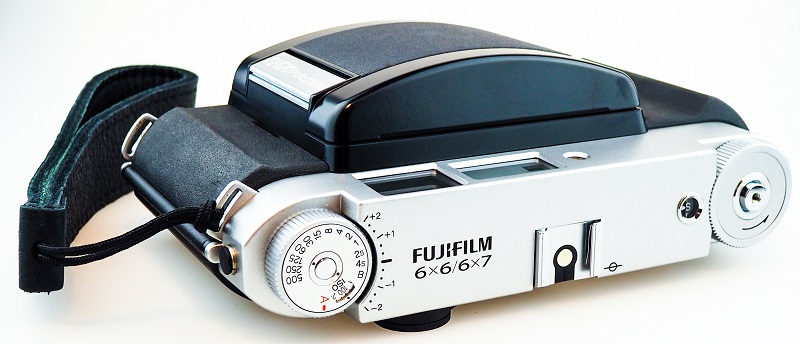 TEMPORARILY CLOSED . . .
This makes this camera the ideal travel companion - it takes up very little space with the lens folded in and can be stowed away easily.
Speaking of a folded lens: This is only possible if the distance setting is set to infinity and no filter is screwed on. If you use a polarizer or ND filter, for example, you have to remove them before folding the lens.
HASSELBLAD 503cw
I will be using the FUJI GF 670 to compete against my HASSELBLAD 503cw with photos of identical subjects, under identical lighting conditions. The bigger and heavier Hasselblad, however, can "only" do 6x6 format and also needs an external light meter.
The Fuji will take care of the metering - I will always take the first picture with the GF 670 and then set the same shutter speed and aperture on the Hasselblad.
And of course both with the same film.